"Bachanal" Drawing by Mariano Andreu, Spain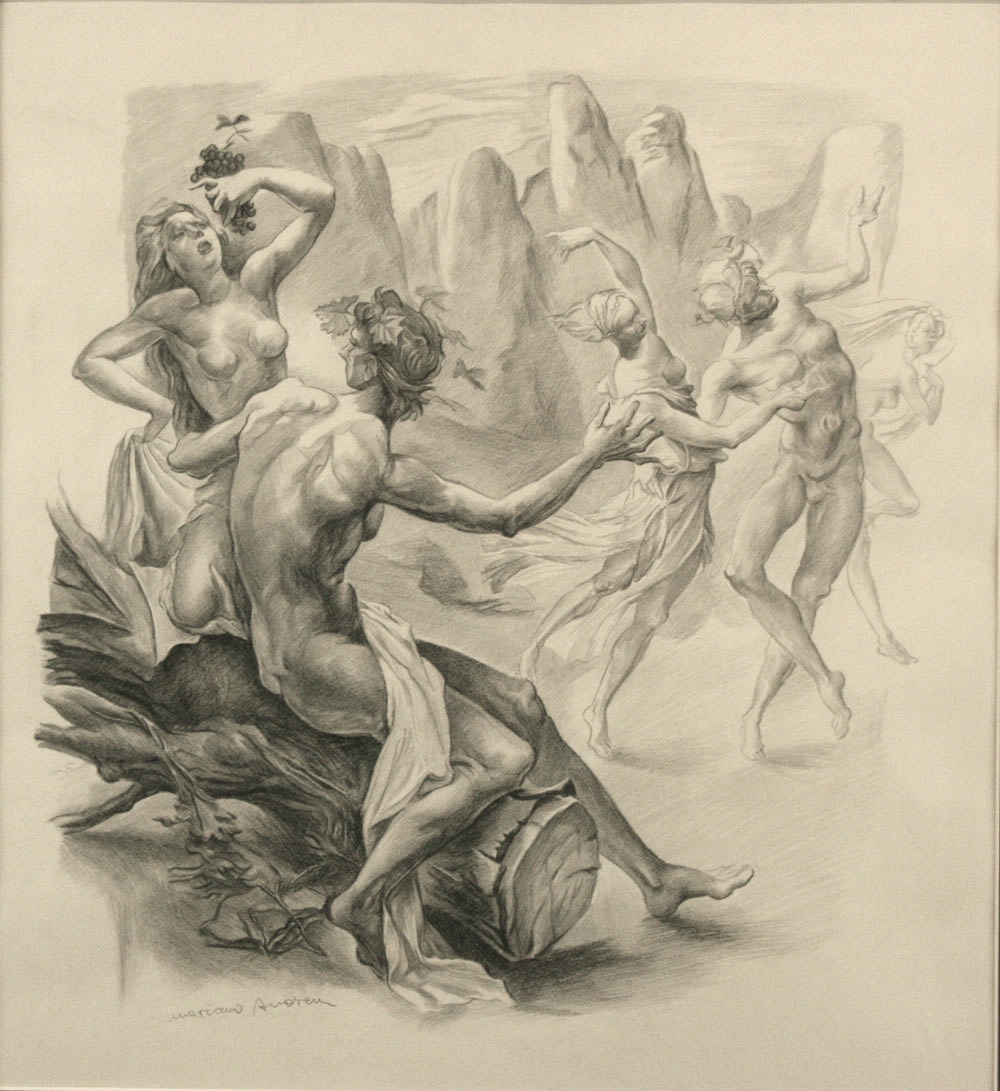 "Bachanal" Drawing by Mariano Andreu, Spain
Mariano Andreu, "Bachanal" (Spain, 1888-1976).
Signed in lower left corner, circa 1934.
Pencil on paper.
(Framed in contemporary frame with mat).
Mariano Andreu was a Spanish painter, drawer, enamel master, sculptor, as well as a stage and frame designer. He was born in 1888 in the town of Mataró near Barcelona and lived his early childhood above the "Circo Barcelonés" (Barcelona Circus) on Montserrat Street. Early on he affiliated to the "Noucentistes" movement, named by his friend Eugenio d' Ors. He studied in London under Alexander Fisher an enameler of the Central Arts & CraftsSchool. Returning to Barcelona Andreu made one of the world's largest enamels, the triptych "L Orb" using contemporary enamel techniques of the day. He left Spain for Paris, with his wife Philomene Stes. There he became involved in stage design, carrying out works for plays such as Le voleur d' images and Sonatina at the Opéra Comique (Paris, 1929). For the Ballet Russe de Monte Carlo he designed costumes and sets for Capricho Español, which premiered in Monaco in 1939. In the U.S., he designed costumes for the 20th century Fox film "That Lady" (1955), starring Olivia de Havilland and Paul Scofield) and the short ballet film, "Spanish Fiesta" (1942). In 1949 He was invited to London by Sir John Gielgud to design the sets and costumes for Shakespeare's, "Much Ado about Nothing". He also designed sets and costumes for Hector Berlioz' "Les Troyens", directed by Gielgud at Covent Garden in 1957. In 1951 he stage designed Sir Alec Guinness: "Hamlet" and in 1955 "All s Well That Ends Well," for Noel Willman.
Andreu exhibited his paintings at the Claridge and Leicester Galleries in London. Throughout his life, Andreu also produced some thirty luxury books for which he gained great reputation as one of the finest lithographers and illustrator of his time. In 1935 he collaborated with Parisian antiques dealer, decorator and frame scholar, Serge Roche with the creation of fine furniture and mirror frames that he exhibited in his gallery with great success. Andreu, together with Roche re-interpreted Baroque aesthetics and produced a great deal of mirrors and other pieces of furniture that obtained great success, which today reach important prices in renowned auctions.
From 1911 to 1937, he regularly participated to the Salon d'Automne in Paris together with other renowned French artists such as Raoul Duffy, Jean Cocteau, Georges Rouault, etc.... He exhibited extensively in Paris, New York, Los Angeles, Buenos Aires, Munich, Barcelona and London.
His work is held in many public and private collections in France, Spain, The United States and Great Britain, such as the British Museum, Chateau Musée de Cagnes-sur-Mer,Toledo Museum of Art, Detroit Museum of Art, Musée d'Arts Decoratives de and Institut del Teatre both in Barcelona, Spain.
The present drawing, dated circa 1934 has strong Italian and Spanish influences. The elongated figures relate to the work of Raphael Sanzio, especially the figure of Bacchus, which has a similar pose to Omphale painted on a fresco over the ceiling of the Loggia of Psyche
in Villa Farnesina, one of the most exquisite Roman palaces that he probably visited while visiting the city in 1913. The drawing also relates to his Bacchus 1934, a painting that also relates to the work of Spanish Master Diego Velazquez.
Size: 19 1/2" high x 17 3/4" wide